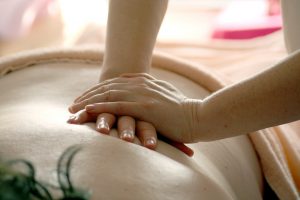 Integrated Medicine Services are offered from our Selly Oak Centre and – depending upon the service – within the community. Clients initially have an assessment to identify their needs from which an individualised therapeutic care plan is agreed using Freshwinds' unique integrated approach, based on the positive benefits of CAM (complementary and alternative medicine). A single or a combination of complementary therapies may be advised taking into consideration their health condition and medical treatments, but also maintaining safety protocols and guidelines.
Upon completion of complementary therapy sessions a letter of information is usually sent to the client's GP and referrer, but also any other relevant health professionals.
'Integrated Medicine is a synergistic and harmonious blend of conventional and complementary medicine within a safe environment'.
The Integrated Medicine (IM) team consists of 2 complementary therapy coordinators and 8 contracted sessional therapists, supported by a large volunteer team of over 40 people including 4 doctors, therapists and researchers. Collectively, the team has a depth of experience in areas of integrated medicine, complementary therapies, public health and research. Referrals come directly from consultants, general practitioners and nurse specialists as well as social services departments.